Inuit Clothing
Many Native cultures in the northern hemisphire have used the reindeer skin for clothing and much more. The Parka's are truly amazing, light weight and extremely warm, you can withstand temperatures below -40 with windchill, it will beat any man made product, it is even better than down filled clothing, we only buy one year old calf skins for our clothing, all skins are bought locally from our Norwegian Sami friends.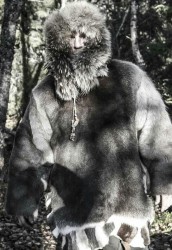 Interested persons can purchase clothing from us, or book a course, to learn how to make a Inuit parka yourself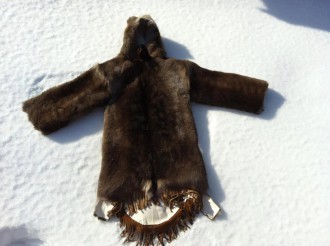 The courses runs for 2 days in a remote area of northern Scandinavia, at our cabin home.
Price includes food, but does not include pick up from the 2 nearest airports.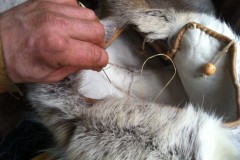 price for the course is 2500sek plus materials
cost of the A grade reindeer calf skins 1200sek approximately 3 -4 skins are needed for a parka.