A  four day summer camp for children aged between 8 and 15 years of age…
The camp activities will be taken in both Swedish and English language
Why not spend 3 wonderful nights and 4 days at our Fjällplats, on the other side of Åreskutan…..sleeping in tents or hammocks, waking up with the view of Åreskutan mountain every morning…
Here at Skuttorpet we (Richard and Claire)live in our mountain cabin, with some of our Siberian husky dogs and puppies, we live here without any electricity or running water, and an outside toilet…these are the facilities or no facilities that you will encounter when you stay with us!
You will source your water from the spring and boil the water on an open fire…learning how to live with very limited resources, just the way we do!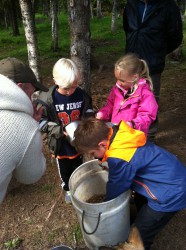 During this camp you will be able to help cuddle, feed and train our Siberian Husky Dogs,  you will learn how to live from the land with our bushcraft forest skills (making fire without matches, building shelters, which you may want to sleep in, looking at wild food, and forest materials, and horse riding)
In the evenings there will be some free time to play games and generally have lots of fun in the forest….
Price:  5400kr per child
Included will be tent and food
Minimum of 4 children for the camp to go ahead and a maximum of 12 children…
Dates:
04/08-2016 til 07/08-2016
For need to know information such as: Directions, kit list, terms and conditions click here