Wildspirit Bushcraft Survival courses & Dog Sledding Adventures Åre
Wild Spirit Bushcraft is a comprehensive survival school. We Run courses and adventures in Åre Sweden and the UK and have over 20 years experience.
Wildspirit Sled Dog Kennels click here for more information:
We offer a wide variety seasonal courses in Bushcraft and survival, both for the beginner or advanced.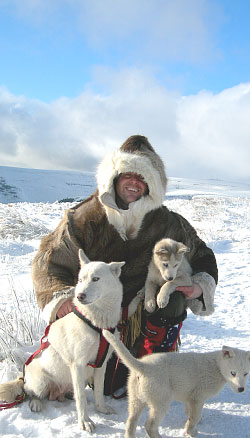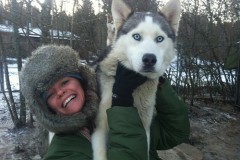 Richard Alexander Rees and Claire Harris are the founders and lead instructors of Wild Spirit Bushcraft. Richard and Claire's biggest passion is in the old Stone Age and Arctic life. Richard has traveled to many countries and learned various skills in Bushcraft by bushmen in Thabazimbi, South Africa to the Sami in northern Sweden and Norway.
About Richard
Richard is also an experienced Musher and even makes his own clothes of reindeer skin perfect for driving the Dog Teams in the somtimes extreme Swedish weather. Often he puts all his skills to the test by literally living off the forest for several weeks in a row. His childhood was inspired by  the nature it has had a profound effect on his life. As a child he was inspired with the mountains in north Wales and Scotland. Now he lives in Åre Sweden and teaches people how to live in the forest.
About Claire
Claire is a keen outdoor enthusiast and qualified as a Summer Mountain Leader, she also takes on the role of facilitating Wild Spirit Bushcraft and delivering bushcraft courses as well as being a keen dog sled musher. Claire has spent many years working with Richard in successfully developing wild spirit bushcraft in UK. The successful partnership have taken their passion onto another level by expanding Wild spirit bushcraft to Sweden, where the business is based today.
Wildspirit bushcraft är en heltäckande överlevnadsskola. Vi håller i kurser och äventyr i Sverige och Storbritannien och har över 20 års erfarenhet.
Vi erbjuder en stor variation säsongsanpassade kurser i naturkunskap, så kallat Bushcraft, och överlevnad, både för nybörjaren och den avancerade
Instruktörsprofil
Richard Alexander Rees och Claire Harris är grundaren av och huvudinstruktören på Wildspirit Bushcraft. Richard och Claire's största passion är inom gammal stenålder och arktiskt liv. Richard har rest runt till många länder och lärt sig olika färdigheter inom Bushcraft från bushmen i Thabazimbi, Sydafrika till Samerna i nordligaste Sverige och Norge.
Han är även en erfaren hundspanssförare och gör även sina egna kläder av renskinn. Ofta sätter han alla sina kunskaper på prov genom att bokstavligen bo i och leva av skogen i flera månader i streck. Att hans barndom präglades av naturen har haft en stor inverkan på hans liv. Som liten inspirerades han mycket av bergen i norra Wales och Skottland. Nu bor han i Sverige och lär barn och vuxna hur man läser av och använder naturens tillgångar.
Länk till vår brittiska websajt:
TV program with Wild Spirit click the link below
Se reportage från brittisk television: Wild Spirit Bushcraft – Fishlock\'s Wales
<a href="http://www.prchecker.info/" title="PageRank Checking Icon" target="_blank">
<img src="http://pr.prchecker.info/getpr.php?codex=aHR0cDovL3d3dy53aWxkc3Bpcml0LnNl&tag=1″ alt="PageRank Checking Icon" style="border:0;" /></a>