About Us
Richard Alexander Rees and Claire Louise Rees are the founders and lead instructors of Wild Spirit Bushcraft and Husky Tours. Richard and Claire's biggest passion is in the old Stone Age and Arctic life and learning about the great outdoors and how our ancestors survived.
We are quite a unique company because we live in remote area only accessible with ski. quad, or snowskooter, we live in a cabin from the 18th century with no water or electric, in fact we actually live what we teach.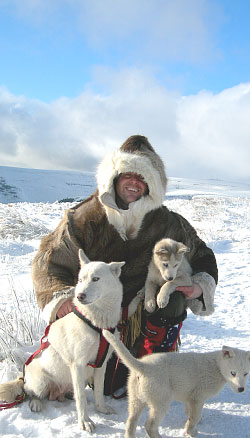 About Richard
Richard has traveled to many countries and learned various skills in Bushcraft by bushmen in Thabazimbi, South Africa to the Sami in northern Sweden and Norway.
Richard is also an experienced Musher and even makes his own clothes of reindeer skin perfect for driving the Dog Teams in the sometimes extreme Swedish weather. Often he puts all his skills to the test by literally living off the forest for several weeks in a row. His childhood was inspired by the nature it has had a profound effect on his life. As a child he was inspired with the mountains in North Wales and Scotland. Now he lives in Huså right near Åre Sweden and teaches people how to live in and survive in the Forest,  in Sweden and our bushcraft business in the UK.
---
About Claire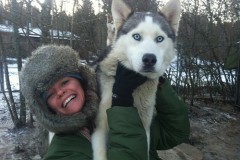 Claire is a keen outdoor enthusiast and qualified as a Summer Mountain Leader, she also takes on the role of facilitating Wild Spirit Bushcraft and dog sledding tours in both the UK & Sweden. Claire's main role is to organise and make sure all the courses and tours run as smoothly as possible, being Richards clock watcher she keeps everybody on their toes, as well as delivering basic bushcraft courses, and dog sledding tours. Claire enjoys the training and physiology of the dog world, and spends time watching the dogs and learning new personal skills from them.
Claire has spent many years working with Richard in successfully developing Wild Spirit Bushcraft in the UK. The successful partnership have taken their passion onto another level by expanding Wild spirit bushcraft to Sweden, where the business is based today, but still running in the UK, with instructors from Cwm Tawel delivering the courses…..
Working with us!
Click on this link for more information on volunteering/working with us