Wildspirit Bushcraft Survival courses & Dog Sledding Adventures Sweden and UK
Bushcraft courses
Wild Spirit Bushcraft is a comprehensive survival school, where we deliver courses and adventures both in Åre Sweden and the UK.
We cater for a variety of experience and skills, from the beginner to the more adventurous from children's parties to stag & hen parties and individual bookings.
In the UK we are based in the secluded woodland of Merthyr Mawr Tythegston, you will find it a fantastic tranquil area, where you can learn about the way our ancestors used to live from the land…This is an amazing spot, as we are situated in a woodland and only a short walk from the coastal area, so here you will find a wild variety of natural habitat.
In Sweden we are a short walk from natures wild forest, where again you will find a wild variety of natural habitat, and you will learn another way of living from the land. It is quite exciting to learn how to survive in two different countries, and how to adapt to in various circumstances.
Dog Sledding Tours
Our dog sledding tours are run in Sweden only, and they range from a 1hr tour to a 2 day tour, if you are looking for longer tours please ask us directly.
You can mush with your own sled, or have an experienced musher to drive you. When mushing your own sled you must have a good fitness level.
Our tours will start off with a short course on mushing and the safety of dog sledding, and then once you are driving the dogs you will be taken out into the scenic Swedish wilderness, where the peace and tranquility will take you to a winter wonderland.
The tours are run on a daily basis throughout the winter period, and weather
permitting.
All our tours and courses run all year round, but in the winter times it is a little tougher, so please be prepared, and ask us for information on clothing and food.
All individuals are responsible for their own safety, so if you are unsure of anything please ask.
Our Kennels Click Link:
Wildspirit Sled Dog Kennels click here for more information: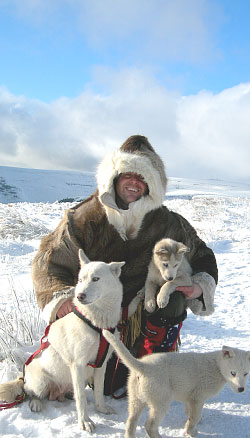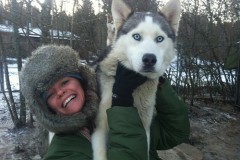 Richard Alexander Rees and Claire Harris are the founders and lead instructors of Wild Spirit Bushcraft. Richard and Claire's biggest passion is in the old Stone Age and Arctic life and learning about the great outdoors and how our ancestors survived.
About Richard
Richard has traveled to many countries and learned various skills in Bushcraft by bushmen in Thabazimbi, South Africa to the Sami in northern Sweden and Norway.
Richard is also an experienced Musher and even makes his own clothes of reindeer skin perfect for driving the Dog Teams in the sometimes extreme Swedish weather. Often he puts all his skills to the test by literally living off the forest for several weeks in a row. His childhood was inspired by the nature it has had a profound effect on his life. As a child he was inspired with the mountains in North Wales and Scotland. Now he lives in Huså right near Åre Sweden and teaches people how to live in and survive in the Forest, here in Sweden and our bushcraft business in the UK.
About Claire
Claire is a keen outdoor enthusiast and qualified as a Summer Mountain Leader, she also takes on the role of facilitating Wild Spirit Bushcraft and dog sledding tours in both the UK & Sweden. Claire's main role is to organise and make sure all the courses and tours run as smoothly as possible, being Richards clock watcher she keeps everybody on their toes, as well as delivering basic bushcraft courses, and dog sledding tours. Claire enjoys the training and physiology of the dog world, and spends time watching the dogs and learning new personal skills from them.
Claire has spent many years working with Richard in successfully developing Wild Spirit Bushcraft in the UK. The successful partnership have taken their passion onto another level by expanding Wild spirit bushcraft to Sweden, where the business is based today, but still running in the UK, with instructors from Cwm Tawel delivering the courses…..
Wildspirit bushcraft är en heltäckande överlevnadsskola. Vi håller i kurser och äventyr i Sverige och Storbritannien och har över 20 års erfarenhet.
Vi erbjuder en stor variation säsongsanpassade kurser i naturkunskap, så kallat Bushcraft, och överlevnad, både för nybörjaren och den avancerade
Instruktörsprofil
Richard Alexander Rees och Claire Harris är grundaren av och huvudinstruktören på Wildspirit Bushcraft. Richard och Claire's största passion är inom gammal stenålder och arktiskt liv. Richard har rest runt till många länder och lärt
sig olika färdigheter inom Bushcraft från bushmen i Thabazimbi, Sydafrika till Samerna i nordligaste Sverige och Norge.
Han är även en erfaren hundspanssförare och gör även sina egna kläder av renskinn. Ofta sätter han alla sina kunskaper på prov genom att bokstavligen bo i och leva av skogen i flera månader i streck. Att hans barndom präglades av naturen har haft en stor inverkan på hans liv. Som liten inspirerades han mycket av bergen i norra Wales och Skottland. Nu bor han i Sverige och lär barn och vuxna hur man läser av och använder naturens tillgångar.
Länk till vår brittiska websajt:
TV program with Wild Spirit click the link below
Se reportage från brittisk television: Wild Spirit Bushcraft – Fishlock\'s Wales
Please click the link
http://wildspirit.se/dog-food-sales/