Thinking about what to do for team building in your company?  Think no longer!  We can tailor make your Team building exercise with you, the package is intended for large companies and can help develop your team, our team building exercises wether it be Bushcraft / Survival, or driving your oun Sled Dogs,  We can offer really fun Team building exercises also that will really make you laugh.
Conference With Bushcraft Survival
The participants are giving a scenario where they will get a chance to bring the team together as one strong unit, learning to find each other's strengths and learn how to use team strategies to work out tasks given, or push it further with how to make fire, shelter, water, food, with the resources they can find in the forest.
Conference With Sled Dog Tours
What better way to take your mind off Work! for a hour / day. Sit back and relax in a reindeer skin covered Sled, or even drive your own team into the wilderness.
We can even arrange a pig/deer/moose spit roast, over an open fire.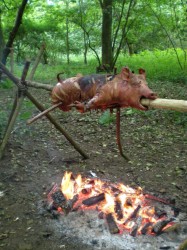 Conference With Snow Scooter Tours
Or why not take a short or long exciting Snow Scooter Safari ride into the wilderness, our guides will take you through deep forests and over frozen lakes, before returning to your hotel with a refreshed feeling inside.
Rates are based on the selected activity and can be tailored to your needs.
Contact us for a quote!
Funderar ni på vad ni ska hitta på för team building på ert företag? Fundera inte längre! Kontakta oss! Så skräddarsyr vi en teambuilding tillsammans med er.
Paketet är avsett för stora företag och kan bidra till att utveckla ditt arbetslag, våra team building-övningar är inom Bushcraft/Överlevnad.
Övningarna är konstruerade att föra en grupp av deltagare tillsammans i en överlevnadssituation under vintern eller sommaren.
Enligt instruktioner får deltagarna ett scenario, där de kommer att få en chans att föra laget tillsammans som en stark enhet, att lära sig hitta varandras styrkor och lära sig  hitta eller göra upp eld, skydd, vatten, mat, med de resurser de kan finna i skogen.
Priserna är baserade på vald aktivitet och kan bli skräddarsydda för era behov.
Inga angivna kursdatum.

Boka här!